Citrus Lust
5cl Kreskova
3cl Yuzu liqueur
2cl Bergamot syrup
2cl fresh Lime juice
1 dash Lemon bitters
Elderflower tonic Top up
Glass: Balloon or nice wine glass
Garnish: Cherry and green leaves
Method: shake & top up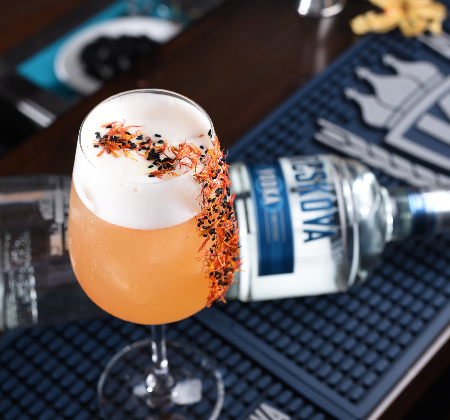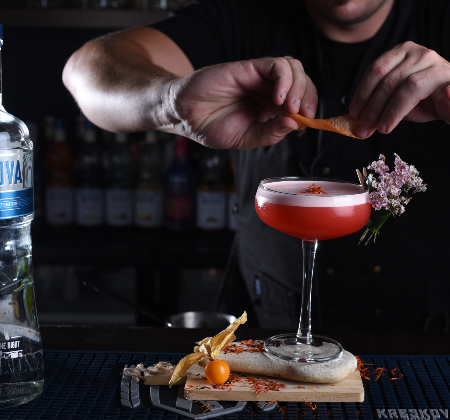 Stiletto
5cl Kreskova Vodka
3cl Lichior de cirese
5cl Kreskova Vodka
3cl Cherry Liqueur
2cl Chocolate Liqueur
2cl fresh lime juice
Glass: Nice Martini style glass
Method: Shake, double strain
Garnish: Cherries, flowers
Bloody Mary
5cl Kreskova
9cl Tomato juice
1.5cl fresh lime juice
2 dashes Worcestershire Sauce
Tabasco, Salt, Pepper (To Taste)
Method: Stir gently all ingredients in a mixing glass with ice into a highball glass. Garnish with celery leaves.
Garnish: Celery leaves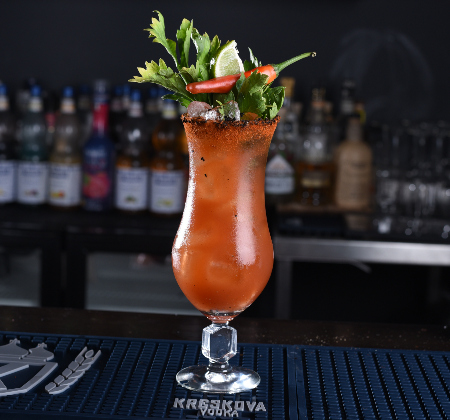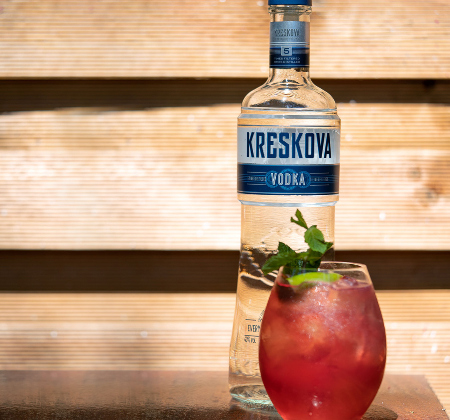 Gingerella
5cl Kreskova
2cl Winter Spices Syrup
2cl Strawberry Liquer
2.5cl Fresh lime juice
Fresh Ginger, chili
Glass: Stylish Old Fashion
Method: Muddle 1 small piece of fresh ginger alongside 2 small pieces of red chili. Add rest of ingredients & shake. Fine strain over ice cubes or sphere.
Garnish: green leaves and lime peel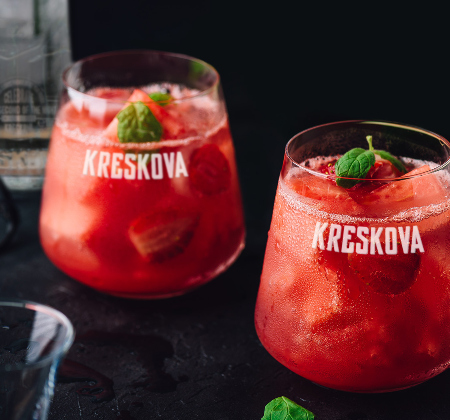 Sweet Kiss
4cl Kreskova Vodka
3cl Saber Elyzia Sour Cherries
1.5cl Strawberry Pure
1.5cl chocolate syrup
2cl fresh Lime
Strawberries
Method: Add all ingredients to shaker. Shake well and pour over ice in an Old Fashion Glass with sliced strawberries.
Citroloca
5cl Kreskova
1.5cl Vermouth Bianco
1.5cl Dry Orange Curacao
2cl fresh lime
2 pieces fresh Ginger
Ginger Ale top up
Method: Muddle the ginger and add the rest of ingredients except ginger ale. Give it a nice shake & fine strain over fresh ice and top up with ginger ale.
Garnish: Slice of Orange, orange zest.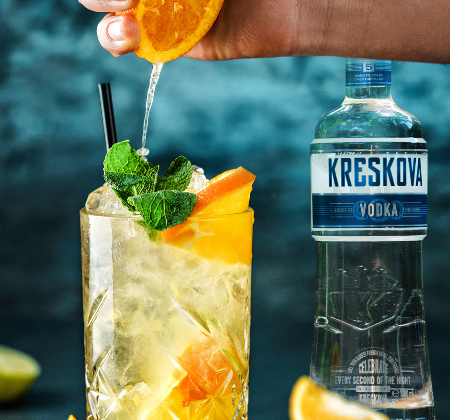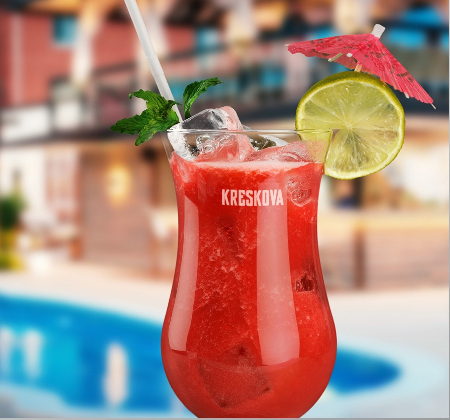 Bella Vita
5cl Kreskova
2cl Strawberry pure
1cl chili syrup
2 small pieces fresh chili
2cl fresh lime juice
2 dash Peach bitters
Method : Shake all ingredients. Fine strain over fresh ice.
Garnish with red chili, strawberry & mint
Wild n' Free
5cl Kreskova
2cl Bitter
2cl Cherry syrup
2 drops vanilla essence
2cl fresh lime
Method : Add all ingredients to shaker & shake well. Fine strain over fresh ice.
Garnish: Lemon zest & Amarena Cherries